Fast One: Best of Miami Art Week
A More Refreshing and Buoyant Year at the Art-Filled City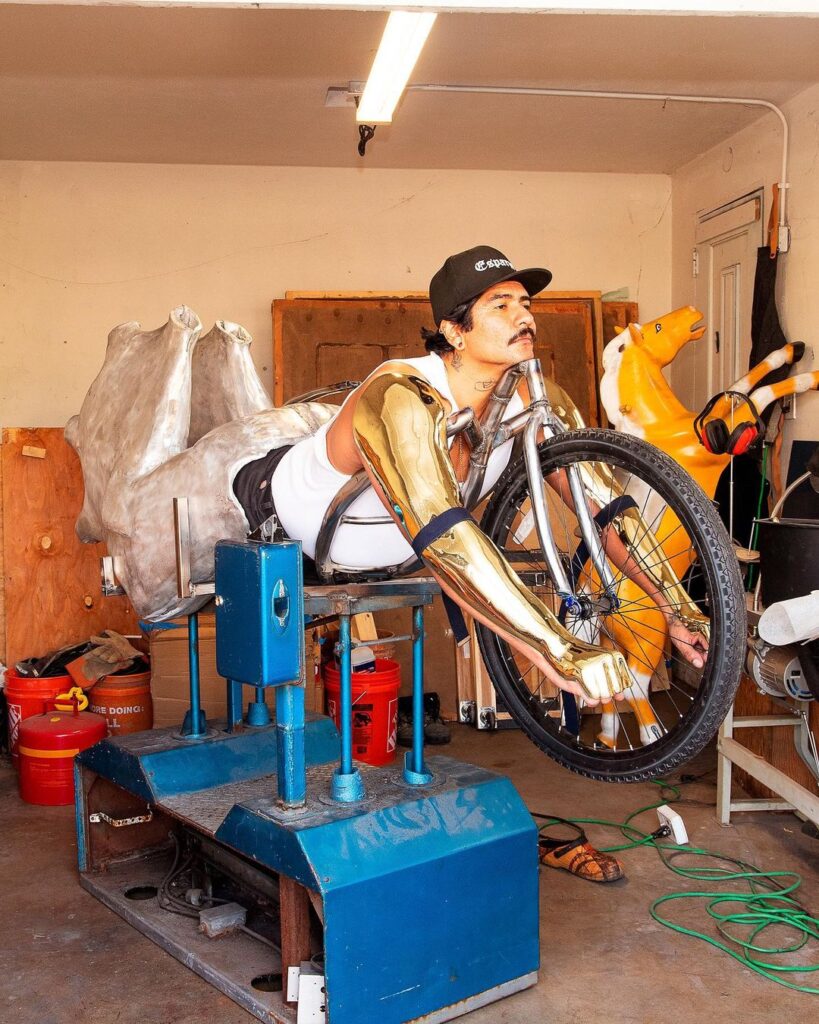 With a wide range of happenings and shows by prominent international artists as well as underrated artists, Art Week in Miami during Art Basel's 20th anniversary felt like a restart. We saw more younger artists come into the limelight which felt refreshing to forthcoming trends and what's to come. Some of the most exciting new artists were actively involved in live installations and rubbing elbows with returning celebrities such as Leonardo Di Caprio, Pharrell Williams, as well as Madonna, Venus Williams, Kim Kardashian and more.
Art Currently highlights its top picks from performance to murals that premiered throughout the buzziest time of the year.
Ruinart's "Right Here, Right Now" Installation
WAt Art Basel, the famed champagne label Ruinart will unveil "Right Here, Right Now," an interactive artwork and lounge on the beach. The installation, created in partnership with Danish artist Jeppe Hein, offers visitors a "mindful getaway" amid one of the city's buzziest events with a personalized meditative sound bath experience and special curated sessions conducted by the artist himself. The four fundamental components required to create Ruinart Champagne were likewise honored in the design of the display.
Image Magazine of LA Times and Commonwealth and Council presents "Corpo RanfLA: Terra Cruiser" by Rafa Esparza
The original performance piece by Rafa Esparza debuted at Miami Basel as a one-time accordance. Titled Corpo RanfLA, the lowrider cyborg turned into a 25-cent ride-machine was created in his garage at home with Karla Ekatherine Canseco's assistance in welding the parts together.
As conceptualized, Esparza uses his body to become the low rider human cyborg inviting audiences to ride on top of it, as if one was on a coin-operated ride. The history of anthropomorphic representations, which focus more on connecting to objects, serves as the foundation for the cyborg. The whereabouts of the piece post Basel is unknown!
Untitled Art Fair
Untitled Art Fair showcases a spectacular collection of booths that are a must see out of 140 galleries, the majority of which fall under Latin regions prominently, under the new guidance of Omar Lopez-Chahoud. Among the highlights are the works of Salvadoran-born artist Studio Lenca at Y.ES Contemporary, Apolonia Sokol at THE PILL, Chris Soal and Sthenjwa Luthuli at WHATIFTHEWORLD, and Library Street Collective. Untitled provides a year-end summary of the in-demand art of 2022 in many ways, with painting—both abstract and figurative—dominating the exhibition space.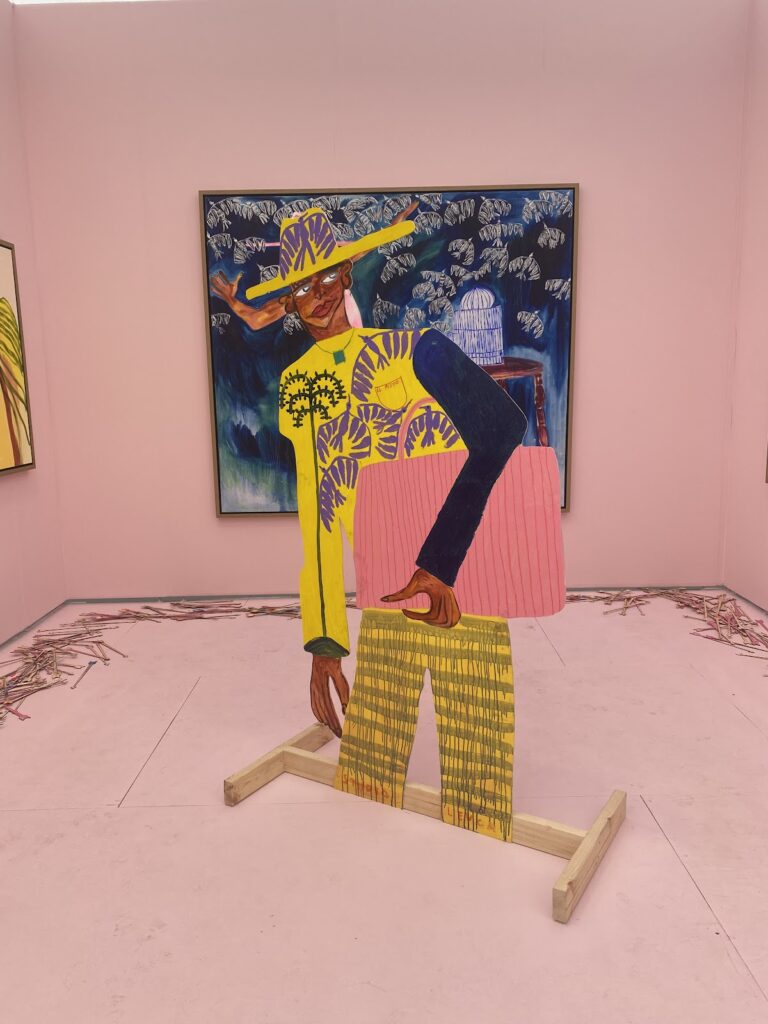 Mural by FAUST for the Museum of Graffiti
The artist has captivated Miami with his painting invasion on the exterior of the Museum of Graffiti in Wynwood. The formal aspects of FAUST's murals explore scale and location to challenge how spectators interpret graffiti. Following his Faust Dunk sneakers drop with Nike, the artist has gained even more attention to his graceful style of honest calligraphic technique. The attraction of FAUST's work has extended well beyond the street; it has won several awards from the design community and been featured in galleries and museums all around the world.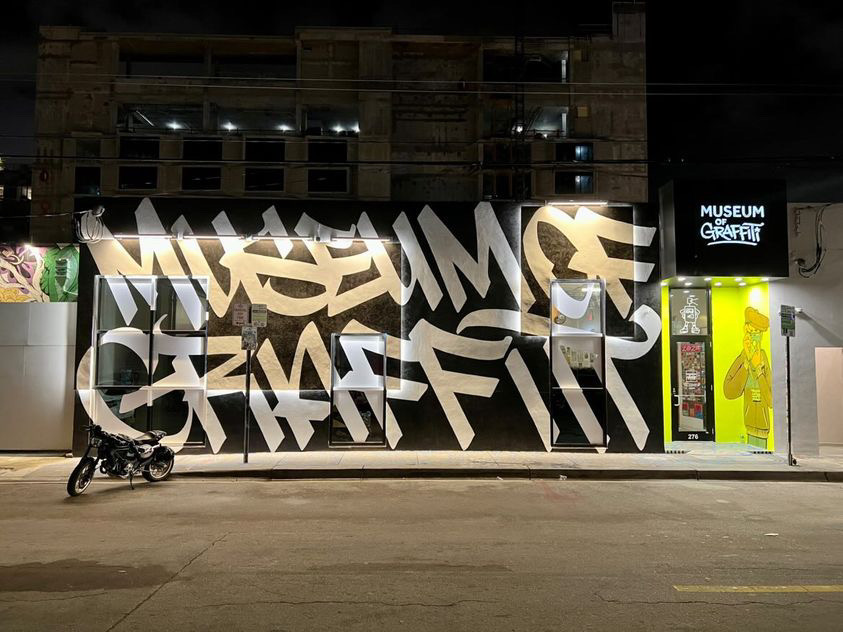 McDonald's Made of Felt installation by Lucy Sparrow
Sparrow's Art Basel Miami Beach installation was inspired by images found online of the fast food chain's vintage faux wood floor tiling. The intention of the Felt piece is to recreate her first McDonald's experience, which she had when she was six years old. The British artist is back in Miami Beach with an installation of a fully equipped McDonald's restaurant, serving out charming artworks in the form of smiling hamburgers, fries, and apple pies. She is well known for her hand-sewn and painted sculptures. The McDonald's felt installation, in Sparrow's perspective, honors longing for childhood memories.
ATM STAND at Art Basel Art Fair. Who is the wealthiest person at Art Basel?
If you want to flex, here's your chance. Art Basel appears to be the ideal location for a functionally ATM by Brooklyn art collective MSCHF to make its premiere at the Perrotin Gallery booth. "ATM Leaderboard is a very literal distillation of desires to display one's money", says Daniel Greenberg, co-founder of MSCHF. The group's ATM art installation shows participants their current cash amounts once inserting their bank card. It ranks users according to the amount of money one has and adds you to a virtual scoreboard after taking a photo of the person. Diplo is currently at the top of the "ATM Leaderboard" with an account balance of $3.8 million dollars.