Duo-forces launch Tchotchke Gallery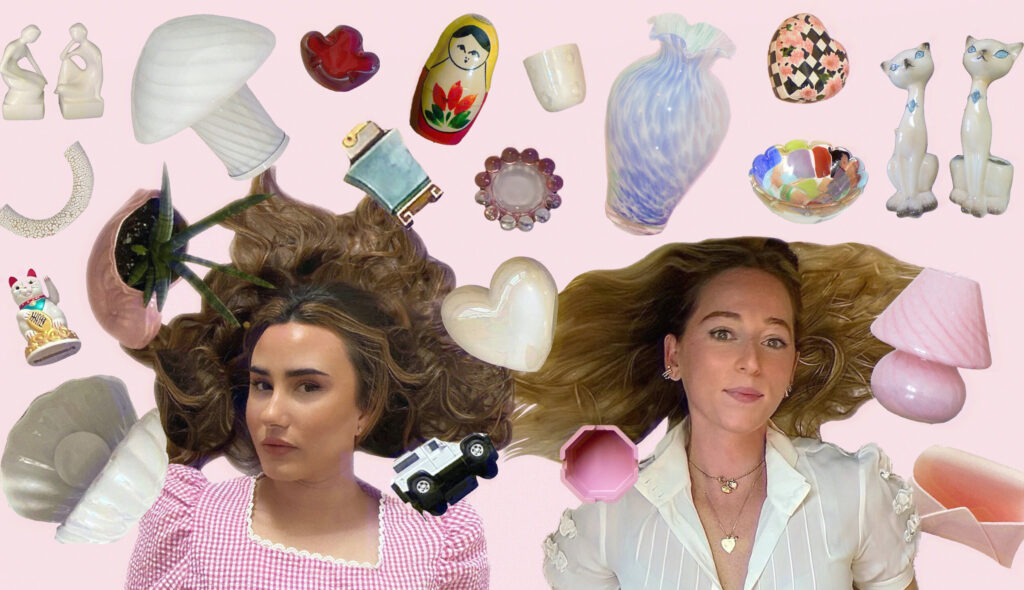 It's said to believe that in a time of crisis, there is opportunity. This rings true to art professionals and now founders of Tchotchke Gallery, Marlee Katz and Danielle Dewar who after finding themselves unemployed in the middle of the pandemic earlier this year, launched an online gallery. As artists and collectors themselves, both decided it was only natural to bring their ideas of one day opening a space for artists they love, spoken of casually, to life. However, with businesses being shuttered, a physical space was out of the question. Instead the two focused on a digital reach, heavily relying on online business; which many galleries have been too, be it mega or mid-level.
Introducing a range of eccentricity in their inaugural 16 artist show, When Life Doesn't Give You Lemons, Tchotchke has approached the scene in a jovial way one can argue is a breath of fresh air. From artists like Hannah Lupton Reinhard who once painted Elon Musk eating sushi and uses rhinestones and Swarovski crystals on her canvases to New Yorker, Kady Grant painting enlarged earlobes; the group includes emerging artists working in a lushly context. "We wanted to connect with our artists and give them a platform to express what 'keeps them keepin' on' during this uncertainty. I would describe the title of the show as encapsulating both a playful and a strong attitude, which is the kind of thing we're all holding on to at the moment. When Life Doesn't Give You Lemons is an exploration of what propels an artist to continually practice when the "norm" becomes derailed," explains Danielle.
Through independent outreach, Tchotchke relies on existing relationships from a network of established collectors to keep sales going while also finding newcomers through social media; another tool used to their advantage. Distinctive with their visual identity, the gallery stays consistent in their digital presence. Every week, they go live with an artist to 'shoot the shit' where viewers are able to jump on to watch, and engage considering there's no in-person events permitted. Remember gallery openings? Some live talks take place inside the artist's studio, others in their living room. Danielle says, "I always look forward to the conversations and studio visits we have with our artists because of my genuine interest but also because these interactions better equip me to speak on their work with collectors. Getting to know our artists is of paramount importance to me because if I'm being honest, we really only want to work with nice, talented people and we have been very lucky so far in that regard."
When asked why 'Tchotchke?' The pair responded, "We are both collectors by nature. Aside from collecting art, we both delve into collecting specific items that bring us joy. For example, I (Danielle) collect vintage Murano glass and Marlee collects vintage ashtrays. When it comes down to it, who really needs a mushroom-shaped lamp or a dozen varying ashtrays? We certainly don't; however, they bring us both happiness and have become rooted in sentimental value. The concept of 'sentimental value' is an idea that we held dear with the creation of our gallery and is a term that inherently defines what a tchotchke brings to our lives. In order to spark this connection, we chose a Russian nesting doll because of its universal recognition as a tchotchke." What better way to enter the market, from identity, name to the artist roster, right? Onto their third and first solo show of art star David Heo, and what would have been the first pop up location just for the event, Tchotchke decided to keep their programming online to avoid any potential cancellations. Working closely with Heo in the coming months, the exhibition opens with a limited edition of ten ashtrays designed in collaboration with Brooklyn-based ceramicist, Ethan Streicher - make sure to get yours while you can.
While the future in the artworld is unforeseeable, Marlee and Danielle still see themselves opening a physical space some time down the line, expressing, we see ourselves in a space on the Lower East Side hosting chill gallery openings, continuing to show our favorite artists, and maybe adopting a four-legged gallery mascot. We were actually recently in the process of scouting spaces for our upcoming exhibition when businesses began shutting down again so we decided to pull the plug and resume once conditions become safer and more "normal". However, I will say that our online-only business model is working so why fix what isn't broken
While most are starting podcasts, Marlee and Danielle have been helping emerging artists, some of which have recently graduated with MFAs, keep afloat through the pandemic by way of their online savviness.
David Heo: Demon Time will be on view January 26th, at 12pm ET. The exhibition foreword written by Maria Vogel can be found here.