Artist Spotlight: Daniela Gomez Paz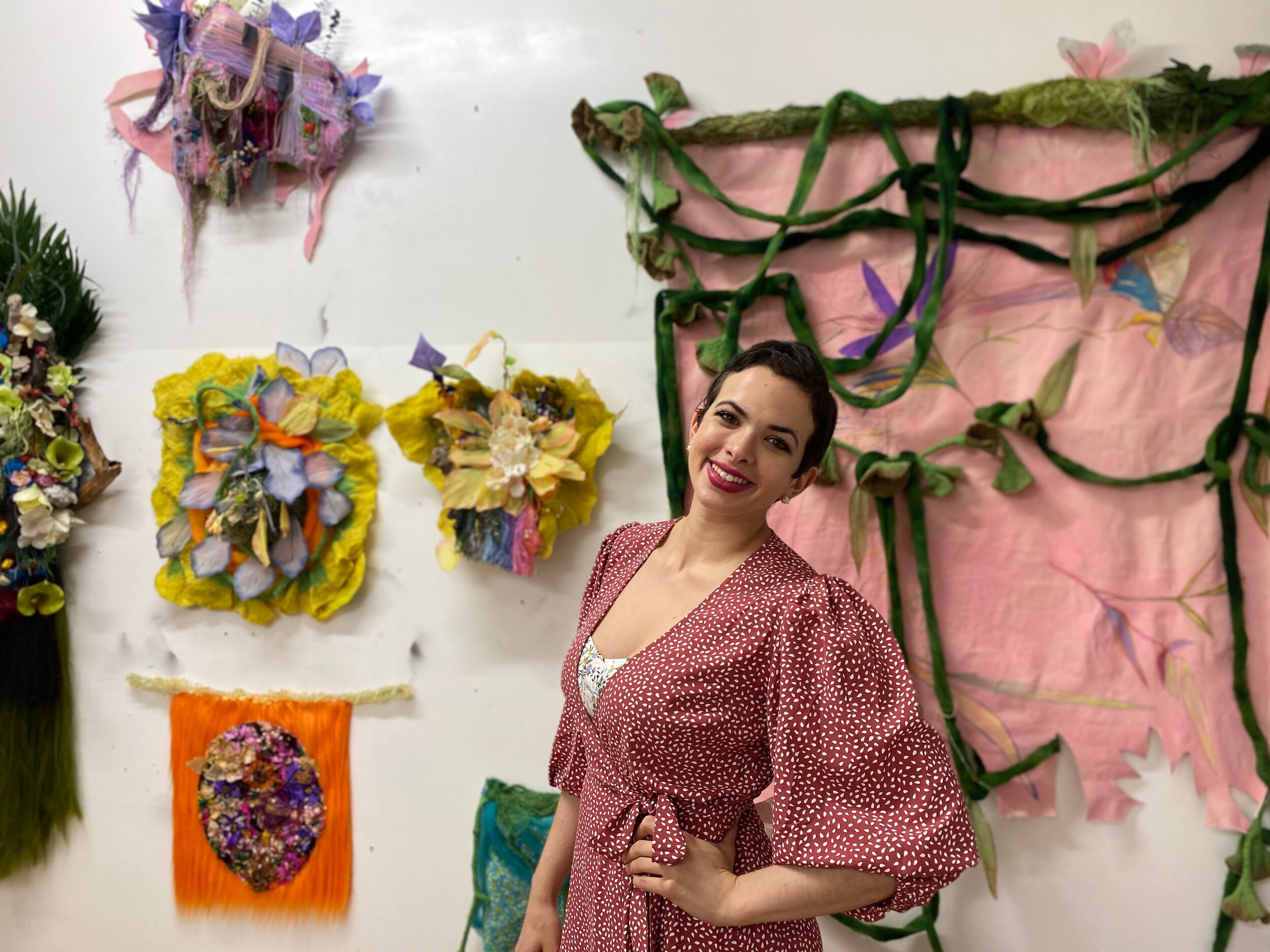 For our first artist spotlight, Art Master speaks to Queens-based artist Daniela Gomez Paz whose canvas made from repurposed materials like mesh cloths, plastic, paper and much more, connects spirituality, ancestry, and self-consciousness with life experiences, like a time when she trekked to Patagonia in Chile with the environmental group, Chulengo. For Daniela, Nature embodies coexistence; it eliminates the barriers of division fabricated by our present-day society. In the search of unification, she ventures through textiles- a universal language in all the cultures of the world. She is interested in the healing benefits of these art-making processes, evident in the research of expressive arts therapists, clinical psychologists, and writers.

Her process consists of photographing textures found in the wilderness to document the impermanence of nature. She reads the textures she documents as a form of text- wild, free, and evolving. Using thread, she transcribes these texts into bodily imagery. With it, she veils objects unravel them into disorderly forms and juxtapose natural with man-made materials. She pats, rolls, tears, squeezes, dances, folds or sews materials to create representational and non-representational imagery. While the materials are soft, flexible, or fluid in their raw form, they appear frozen and permanent. Her process holds movement in place so it becomes motionless, so it documents the undocumented.
During the lockdown, Daniela continues to create. In her upcoming series consisting of mixed media collages made of fabrics, found objects, paper, thread, markers, paint, canvas cloth, fabric leaves, natural material, titled Navegaciones Sentidas (Perceived Paths), Daniela gives us a sneak peek on how art can transcend, in an interview.
(Q) Where are you currently based?
I am currently based in Queens, New York.
(Q) Walk me through your day in quarantine - are you at the moment, able to create new works?
I am grateful to currently have a studio in my living space during these uncertain times. Every day, I am in my studio either making 20-minute moves or 5-hour moves depending on the day. Teaching kindergarten on zoom has been an unexpected challenge to navigate, however, the energy and love children naturally radiate somehow grounds me and allow me to keep going. I think children are wise in their own unique way. They cry when they are sad, smile when they are happy and although they experience a wide range of emotions throughout their day...they still make it a priority to play, create and wonder about their make-believe worlds. Their spirit reminds me that it is okay to be present in my world even if the entire world is experiencing a rough wave. If I focus on healing during the storm, I believe I can be a better community member to humanity.
(Q) Any new works or series you're working on now?
Yes, I am. Part of my studio practice takes place in the remote wilderness and I guess you can say my heart still feels Patagonia while I am making this new body of work. During the winter, I traversed parts of the Patagonia National Park of Chile under the guidance of a team of environmental educators known as Chulengo. Aside from witnessing some of the most unforgettable landscapes, these kinds of experiences allow me to cultivate my own relationship with the natural world. My motives behind these intentions originate from my interests in the spiritual content of the Mola. Molas are handmade textiles that form part of the traditional clothing of the Kuna people. The Kuna Tule women reside in Colombia; Kuna means "la superficie de la tierra" the surface of the earth, and Tule means "la persona que habita la tierra," the person who inhabits the earth.
For my latest series Navegaciones Sentidas, I am questioning what inhabiting the earth means while deepening my connection to parts of my South American identity. In doing so, I expand on the mola tradition by imagining its essence upside down, inside out to create unordinary outcomes. The goal is not to duplicate but rather to evolve these traditions into the modern world while preserving their essence and authenticity for textile art to be used as a healing practice in contemporary medical practice and community traditions.
(Q) Where did you exhibit your works last?
My work was last exhibited in a group show "Small Objects," curated by Paz Monge in Elena Maria Ketelsen Gonzales's gallery and curatorial project space La Salita, located in NY.
(Q) Talk about your work like "Corriente Celestial" or "Latidos Lejanos"? What mediums are you using and how do you conceptualize such works?
Both works are made from thread and wool. The surface holding the material is made from repurposed paper, plastics, or mesh cloth. I start by unraveling thread from its spool. There are usually 2-4 different colored spools roaming around freely during the same time. While one of my hands unravels thread, the other folds each layer until it begins to mimic the form of hair. Moving my hands betters my breathing, seeing, and listening. It's a meditation relying on the rhythmic qualities of movement. In my compositions, I use fibers loosely and tightly because I want my art to breathe, inhale, exhale, and revive.
(Q) What is one underlying theme in most of your work?
An underlying theme in most of my work is the intersections between land, family, home, and community. As a child, I painted landscapes not realizing until becoming an adult that I painted them because they reminded me of home. My family moved to The US from Colombia in the 1990s because of the socio-political wounds the drug trafficking trade inflicted on its people. Today, I am an artist and handcraft energy to make statements about the interlacing relationships humans have with the earth as a way to nurture cultural healing.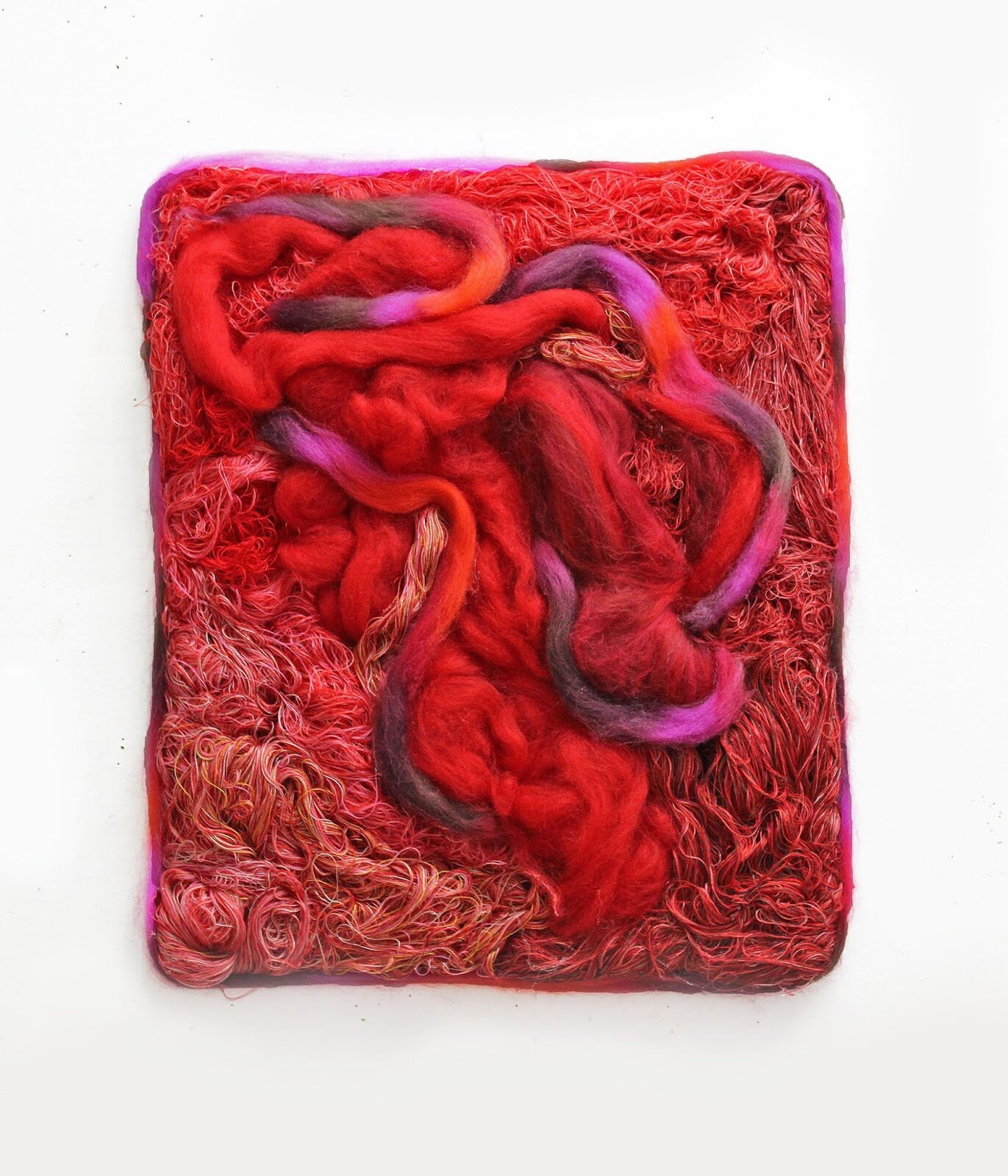 Latidos Lejanos (Beating Echos), I was thinking about the heart and lungs in relation to our breathing. Amy Leigh Mercree in her book "A Little bit of Mindfulness" says that deep breathing is one of the most effective ways to gently and easily let go of deep-seated grief. We all have grief in our hearts and our lungs. Whether for specific life events, or, more frequently, for the things in the world or the world around us, it's a natural part of being human. But if we can mitigate that grief energy, help it flow, and let it go just as easily as it was acquired, we give ourselves the opportunity to have a more open heart and to feel greater levels of emotional freedom. I couldn't think of a better time to focus on breathing given the reality humanity is currently living.