New York Based artist FRIDGE releases an invisible NFT: Explained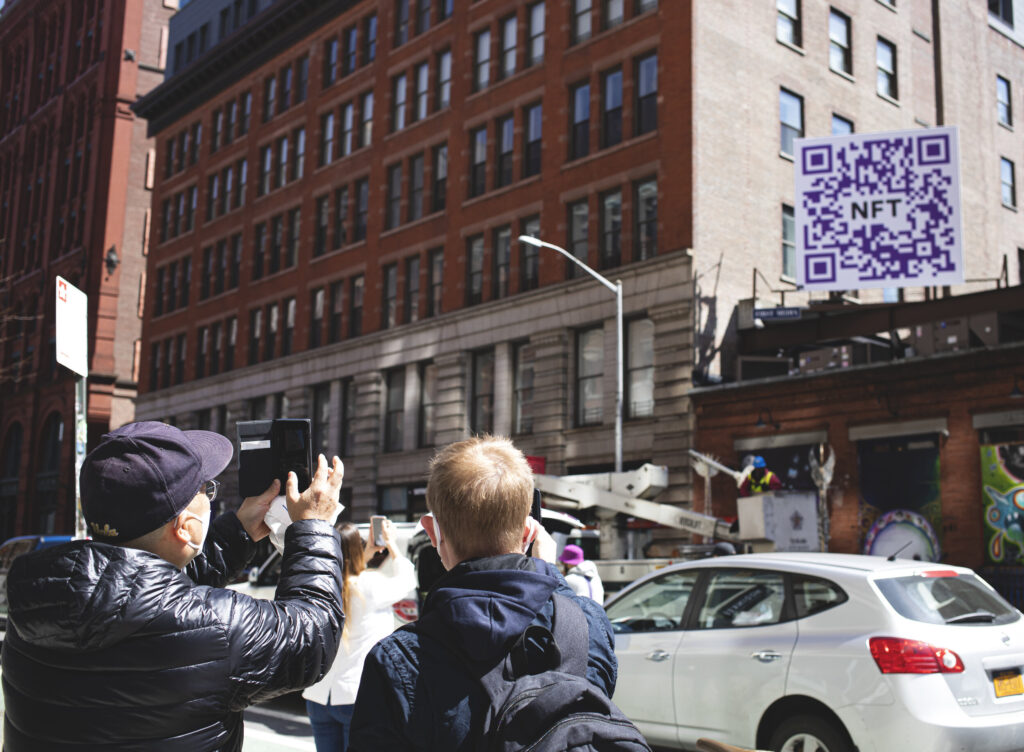 Right when you thought NFT (non-fungible tokens) couldn't get any more mind-boggling, artist FRIDGE known for his elusive work, and purple refrigerator icon, creates an invisible NFT titled Nothing Fucking There, and collectors have bought into it. Released last month, the digital NFT-based artwork is worth 100k and available to bid through with a billboard amid SoHo's busiest streets (on top of 281 Lafayette Street, to be exact). The billboard contains a square, purple-colored barcode that leads you to the artwork once scanned - a square image of absolutely nothing or a blank digital canvas.
Unless you're living under a rock, you've already heard that NFTs are dominating the art trade through blockchain technologies, paving the way for future artists and the creative industry - including the music and video game businesses, to name a few. Art playing a role within cryptocurrency markets is positive for many, particularly the artist and collectors - as artists in this day in age are becoming versatile in mediums (digital is no exception) and collectors are becoming NFT savvy. With questions still surrounding the crypto bubble, it isn't new. Crypto currency has been a convenient way of collecting physical artworks for years now, but most recently it has eased payment structures within the art market's gray areas. In the case of Nothing Fucking there, the artist pulled a stunt by creating his first NFT of complete nothingness as a critique on what it feels to be an artist at this time, when intangible art is in demand. After the record-breaking, NFT-based sale at Christie's of Beeple's Everydays, The First 5000 Days , followed by the recent exceptional sale of CryptoPunks last week, the future of existing digital art is infinite. This first of its kind sale sprung up the idea for FRIDGE to mint one himself except in the form of a blank NFT, a very thought-provoking one that is.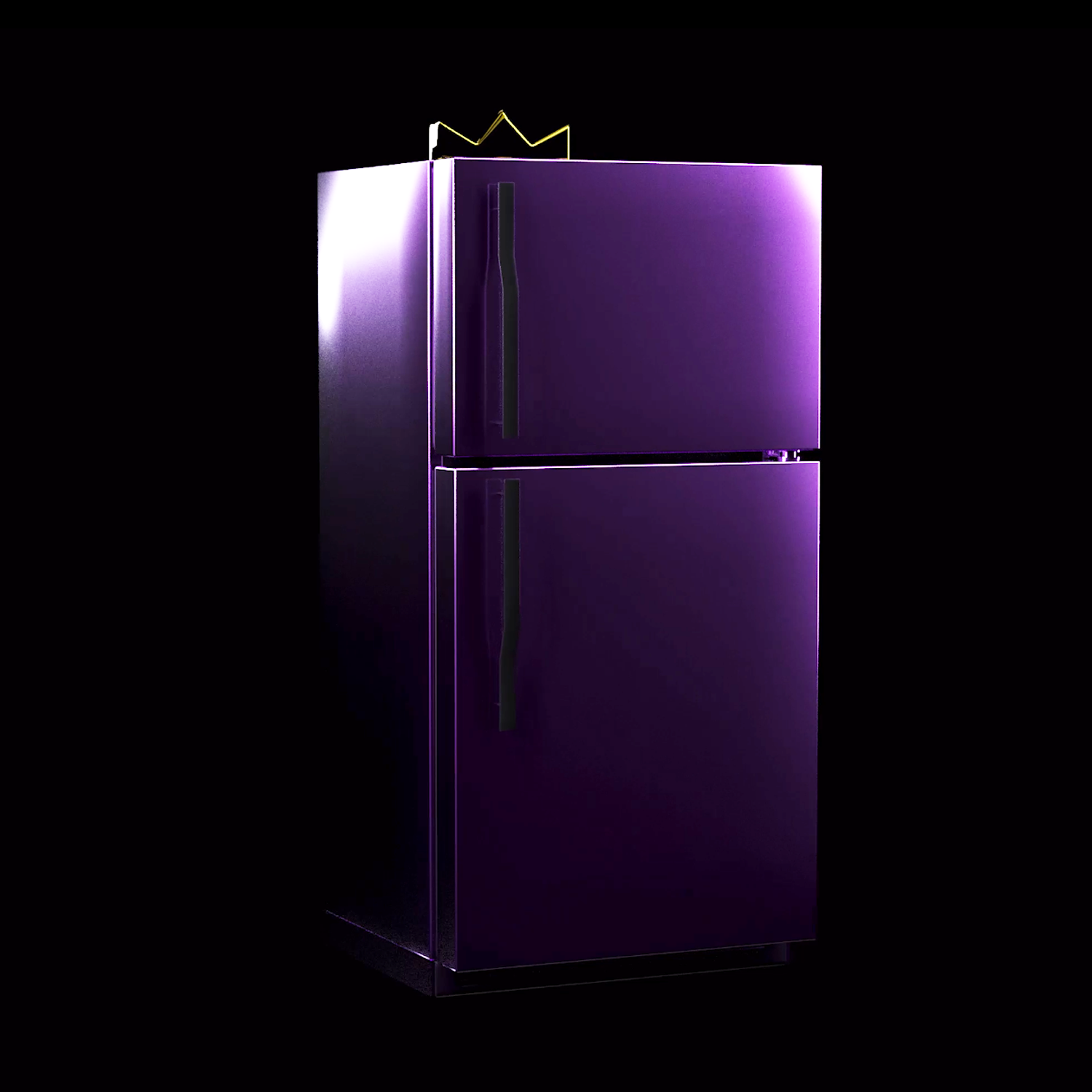 It's like Renê Magritte's modern-day The Treachery of Images where the artist is not concerned about the art itself, but more or less interested in the viewer's reaction and at the same time, bringing awareness to the NFT craze. FRIDGE explains, "I'm fascinated by the amount of attention NFTs are receiving at the moment, especially artworks selling for top dollar amounts and how auction houses and galleries have quickly adapted to this hype." Capturing the essence of what to some feel like NFTs are - nothing you can possess with touch or feel, the artist wants one message to be clear - you can create basically anything if you stop doing nothing. This synonymous expression is yet another meta-message FRIDGE continues to use throughout his practice. Known to be an ultimate prankster, personally, the artist intended to attract buzz to both his first and foremost NFT; and the billboard itself. The artist continues, "I figured bidders would be more interested in owning the idea and art moment itself alongside the NFT, so I wanted to create a spectacle purposely through my billboard takeover as my way of responding to the occasion. I like connecting with audiences less formally, or in a light, mischievous way, which I think can break the ice when talking about new models of seeing, expressing, and engaging with art. The billboard is my way of inspiring people to reflect on the notion that if they stop doing nothing, you can achieve anything, even if you're selling nothing."
It's certainly a busy moment for the artist. Following the billboard installation, he partnered up with a motion designer and friend who goes by the name of Aleks.3D to build onto the NFT collection with two new ones - a one of a kind of the iconic FRIDGE silhouette 'RAFRIGERATOR' and an edition of 29 titled FRIDGE ADVERTISEMENT. This time though, the artists teamed up to make a three-dimensional moving design of the infamous purple FRIDGE in different formats. Aleks.3D explains, "as a motion artist, it's always refreshing to work together with talented artists - FRIDGE especially since we immediately bonded over a similar passion for street art and our intentions to embrace the digital realm with art. Nothing Fucking There is a testament to how contemporary art goes hand in hand with digital design and shows how our society continues to find unique ways of blending different mediums to challenge what it means to create art in 2021. Being able to bring FRIDGE's iconic work of art into the world of NFT's is an honor and I look forward to seeing what others think as we debut our first collaboration in the NFT space." The whole collection is available to see and bid at the official Nothing Fucking There website.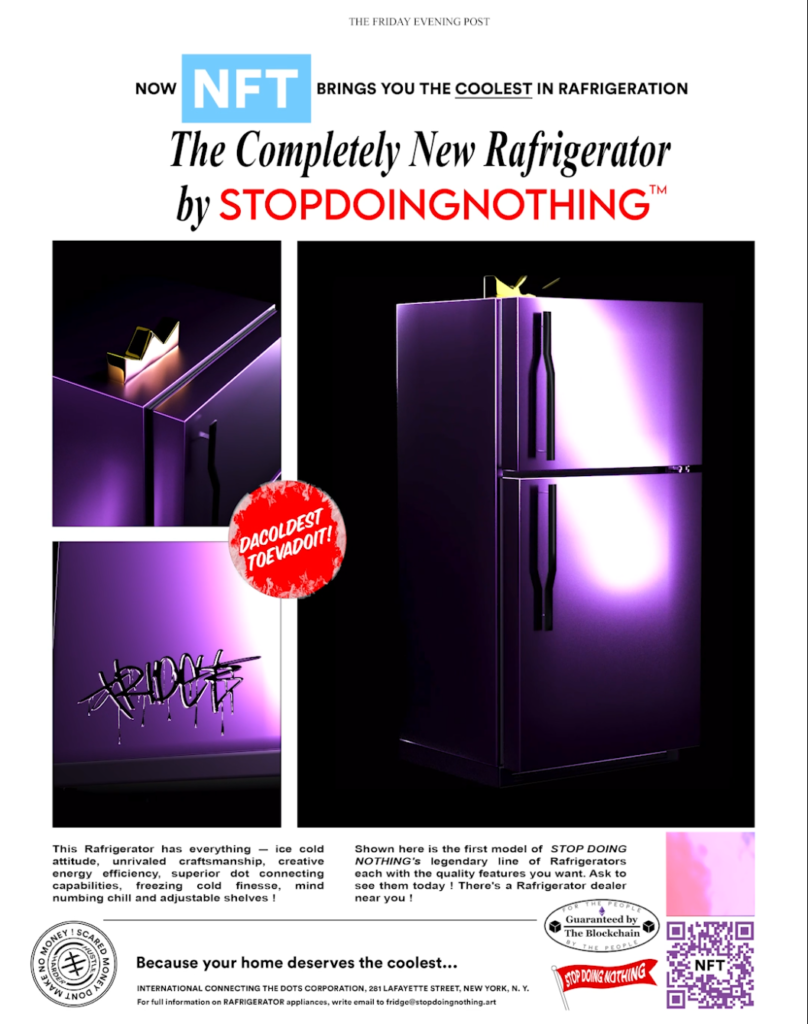 Then, the artist was invited to be the featured artist of the month in the Soho Ink Shop 's galleries, right below the Nothing Fucking There billboard. The presentation features 16 works, including an exclusive five-part series of oil paint on hand-cut mdf board, partnering with fellow artist Deanna Maffeo exploring New York City's most famous foods.
The scannable billboard is up until May 25th.