Ivy Haldeman on Transformative Figures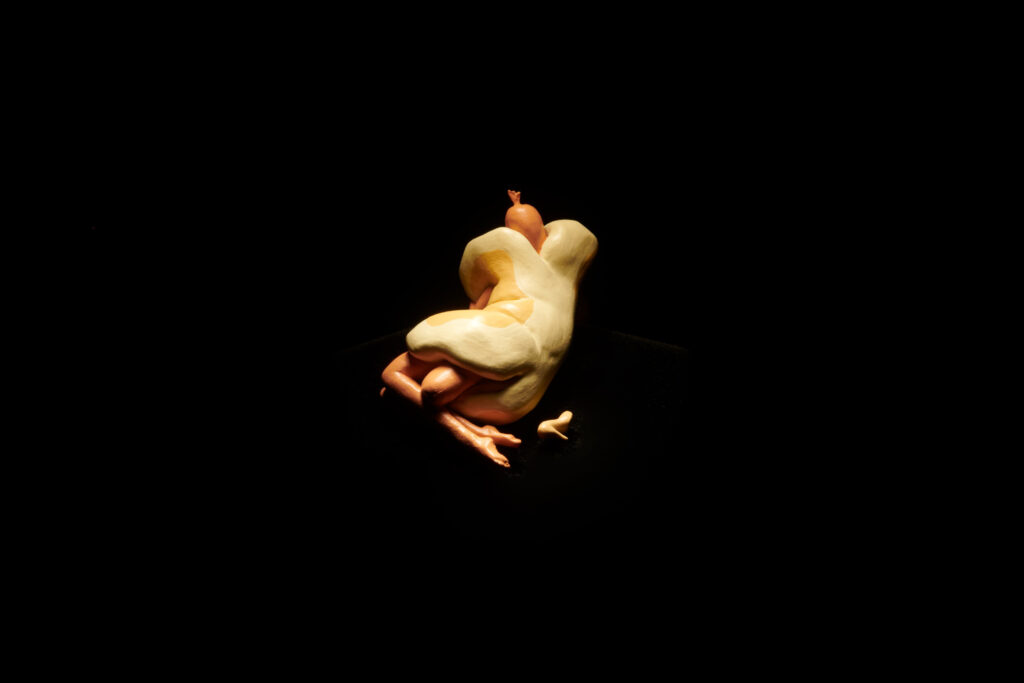 Ivy Haldeman's work strikes me as being more than just cheery hotdog ladies and floating suits. In her latest solo show at Downs & Ross gallery in Chinatown, there's a different side to her work than seen before. Perhaps due to the selected paintings perfectly arranged throughout the gallery walls, leaving one anxious to see more in the next room or what's on view: the artist's first-ever diorama. This hidden gem is quietly staged within a wall in the middle of the gallery, where one can easily miss it if not pointed out. As one approaches to look through the hole, a miniature-sized hot dog sculpture titled Aperture, Full Figure, Back Forward, Shins Cross appears close to the eye but feels so far away. Instantly I thought of Marcel Duchamp's Étant donnés, one of the artist's last tableaus before taking his competitive chess playing more seriously, which led to his career switch; and now part of the Philadelphia Museum of Art's permanent collection. Duchamp's mixed media assemblage shows a naked woman lying spread-eagle on a bed of dead twigs and fallen leaves, and while Haldeman's isn't much like this, the figure is wrapped in what seems to be her own clothing - a hotdog bun. Aperture was quite the opposite of Duchamp's contorted figure, and instead, Haldeman ingeniously examines the feminine sensibility within what feels like a closed, domesticated, and isolated space.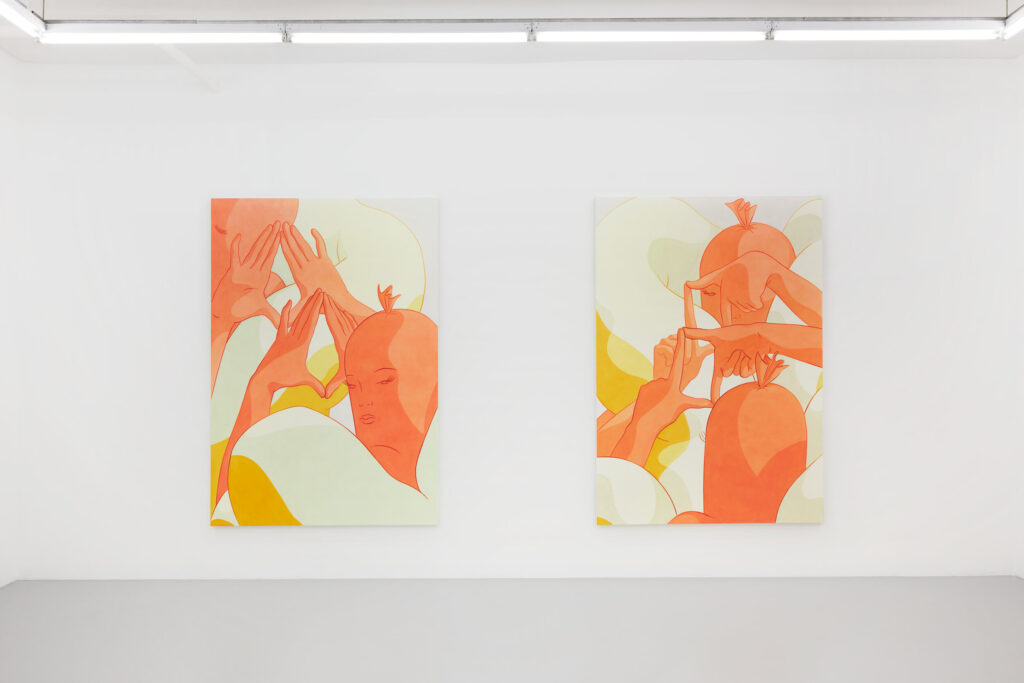 The majority of the show highlights paintings consisting of two subject matters, which explains the show's title 'Twice' - signifying the use of duality represented throughout: two suits, two hotdog ladies wrapped in their buns, and the predominance of striking hand gestures as often seen in the artist's work. But the signature hotdog morphed into a sculpture with a heel orphaned off the character's foot found while looking through the peephole is one of its kind. In an interview, Haldeman says, "I am afraid most visitors don't see the piece, it is a little secret within the exhibition. But when you do see it, it beckons you to step a little closer, to look a little harder, to really enter the piece through your eye. In some ways I am interested in artwork that can overwhelm the sensibilities. It's funny, the more minute a piece is, the larger it can be in your mind. The leap from the object to the mind is a tricky one. That is to say, the Aperture piece is very tiny." Surely, the small figure satisfied my appetite for something new, as I looked through the hole - a serious pick-me-up during an almost post-covid art world.
The show opened simultaneously during Frieze New York, the first in-person art fair since last year accompanied with a press release including an excerpt out of the Karen Tei Yamashita Tropic of Orange, a novel that follows a diverse group of characters; each having their own perspective on immigrant culture, displacements and the diasporas. Twice presented over ten of Haldeman's signature pieces, inviting the viewer into moments of contemplation; connecting with both the artist's imagination and one's curiosity. Although short-lived, Haldeman's diorama art coupled with the well-postured figures found in her soft-colored painting leaves audiences like myself asking, when will we see more of these miniature forms? It's hard to come across such uncanny experiences that can't be captured with your iPhone camera to look back on. Instead, Aperture forces us to be reliant on our memory to obsess over; time and time again.
In this interview, the New York-based artist Ivy Haldeman talks about her latest work in relation to transformation, the inspiration behind her most iconic works, specifically the moment she realized that being in the arts is where she belonged.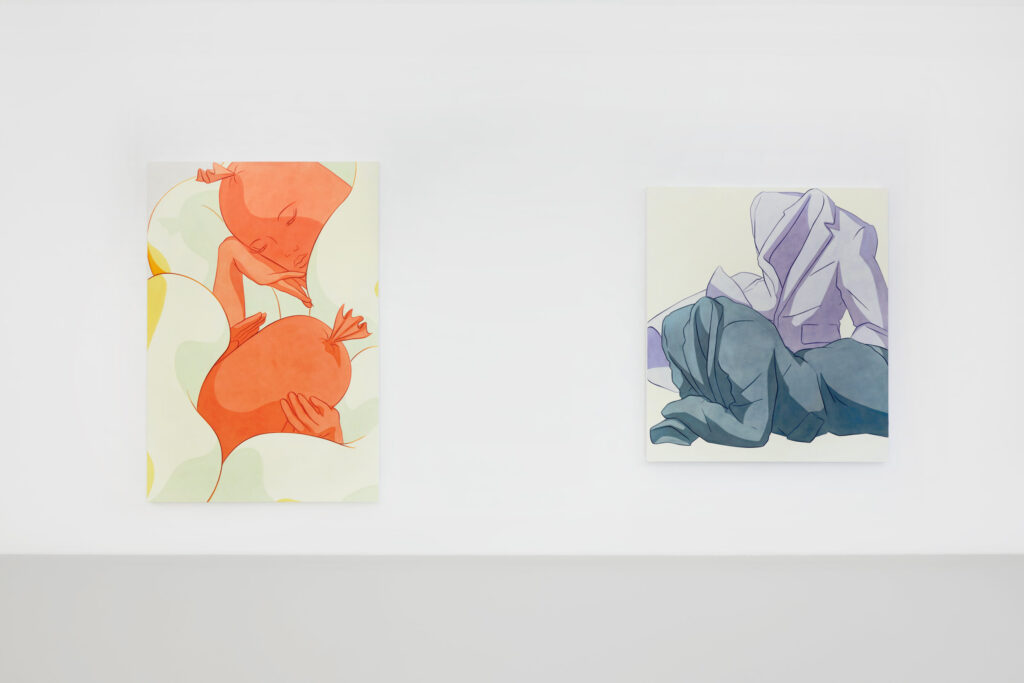 You depict three main objects in your artwork: hot dogs, suites/heels and hands, all presented in an openly sensual manner. What do these figures represent to you? Why are such figures an important motif to your work?
These images have slowly worked their way into my practice, coming from different moments of inspiration: an advertisement on the street, a found object in a friend's studio, a random video on the internet, a game that I would play with children that I babysat. Despite their various origins, the objects that I depict represent different types of transformations we have to make of ourselves as social and economic participants. In some ways, it is a terrible transformation, but there are small moments of humor and intimacy that help to redeem it.
Posture plays an essential role in your work - the figures are often depicted in lounging positions or reading - how come? Can you speak more about the idea behind these figures of representation?
There is an irony to the reclining figure in a painting. I think for example, of the classic western artist model who is in fact creating their economic and social equity by sitting in relaxing postures. They look like they are relaxing but perhaps in situations. For women, especially, where other forms of labor or power are socially untenable, they have to make their image work for them. My paintings of suits almost become a literalization of this laboring image. In an atmosphere where you can't tell the boundaries of leisure and labor, when a figure is lounging, one wonders if they are actually working, and for whom?
What is the thought process behind the hand gestures chosen for each portrait? Do they have a significant meaning in each?
I try to keep my paintings sparse, but in the absence of narrative objects or a backdrop, I rely on the hands in the paintings to carry the drama. In this sense, they are incredibly versatile. In this most recent exhibition, I was interested in a figure developing a relationship with their reflection. Still, it is an imperfect reflection with whims of its own, and without glass in between. The hands set the tone of casualness, intimacy and distance.
What were your influences growing up around artists and a cultured background? What made you pursue art as a profession?
My father was in the military, and our family moved all around the United States, notably Hawaii, Maryland, and Northern New York. My mom would take me to look at art, and we went to museums in Boston, Baltimore, Syracuse, Las Vegas, just to name a few. In Maryland, there was an after school art program called "Creative People" that I went to. I remember people saying that the woman who started this program was so committed to drawing that she would fall asleep with a pencil in her hand. When I was very little, a family friend, Pier, gave me a sketchbook with random marks in it, a book of challenge drawings for me to fill in the rest of the images - I often think of this book.
Eventually, I went to undergrad at the Cooper Union in New York City. When I left school, even though I kept a studio practice, I didn't believe being a professional artist was feasible. So I dabbled in other professions: I took an EMT course, I proofread for law companies. There was a moment, though, while doing a midnight proofreading shift, I was arguing with a man over how to use a copying machine, I realized I was in the wrong place. I needed to be surrounded by artists.
IVY HALDEMAN Twice is on view through June 19, 2021 at Downs & Ross, New York.
Ivy Haldeman (b. 1985, Aurora, CO; lives and works in New York) gained her BFA from The Cooper Union for the Advancement of Science and Art in 2008. Selected solo exhibitions: Downs & Ross, New York; Francois Ghebaly, Los Angeles; Capsule, Shanghai. Selected group exhibitions: Petzel Gallery, New York; Downs & Ross, New York; Hauser & Wirth, New York; Fredericks & Freiser, New York; Frans Hals Museum, Haarlem, Netherlands; Gavin Brown's Enterprise, Hancock, NY; Reyes Projects, Birmingham, MI; Arsenal Contemporary, New York; and Paul Kasmin Gallery, New York.