Into Wong Ping's Emotive Real-World Animations at New Museum
On View at New Museum, WONG PING: YOUR SILENT NEIGHBOR through October 3, 2021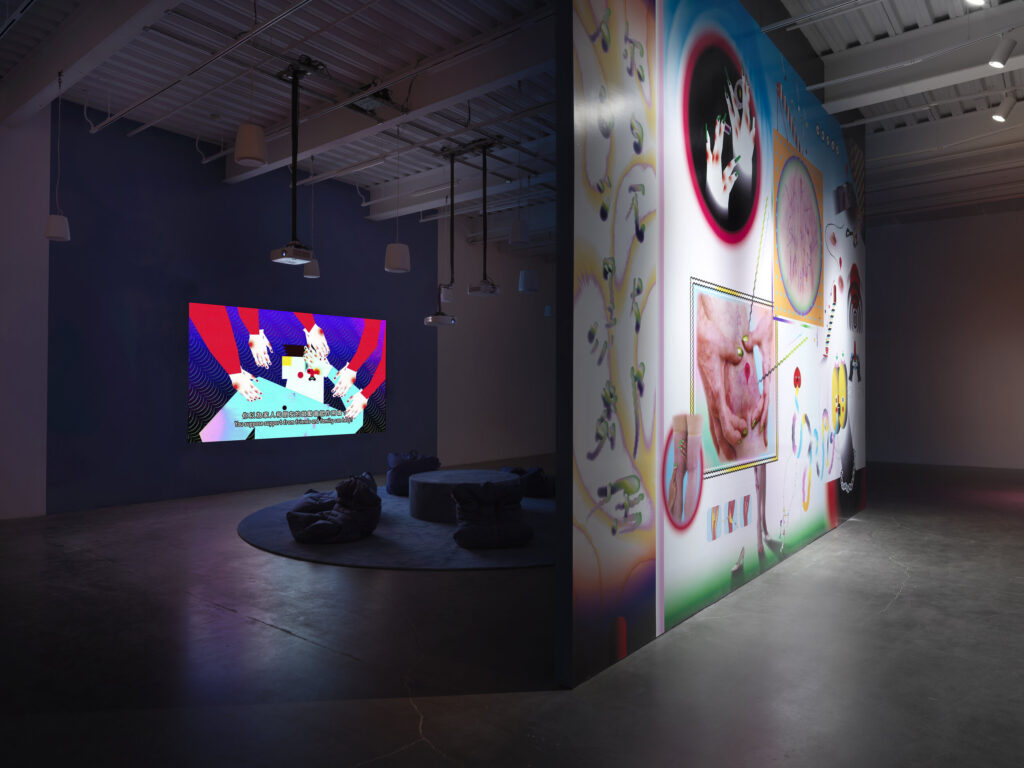 While most museums hold a reputation of having some of the world's greatest art collections, New York's New Museum thrives on its exhibition offerings, and artists on view, like Wong Ping currently showing his first American survey through October. Wong Ping: Your Silent Neighbor brings together a grouping of some of his latest experimental work, including a new video created exclusively for the exhibition. Your Silent Neighbor was curated by Krauss family curator Gary Carrion-Murayari and former curatorial assistant Francesca Altamura.
The first time I came across Wong Ping was at a group show One Hand Clapping at the Guggenheim museum featuring the work of several Asian artists addressing the major effects of globalization. Ping simply scripts his work based on personal life events he encounters on a daily basis, living in Hong Kong to create deeply stimulating video animations. I was immediately immersed in the bright colors, music, and explicit stories narrated throughout the animation, most of which touched on existing relationships. Born in Hong Kong, and later moving to Australia in hopes to gain better grades in school, Ping decided to take a more serious approach to the only major that doesn't require taking exams: New Media Design. After he graduated and returned to China, he started to work in a printing factory and learned to use various animation software.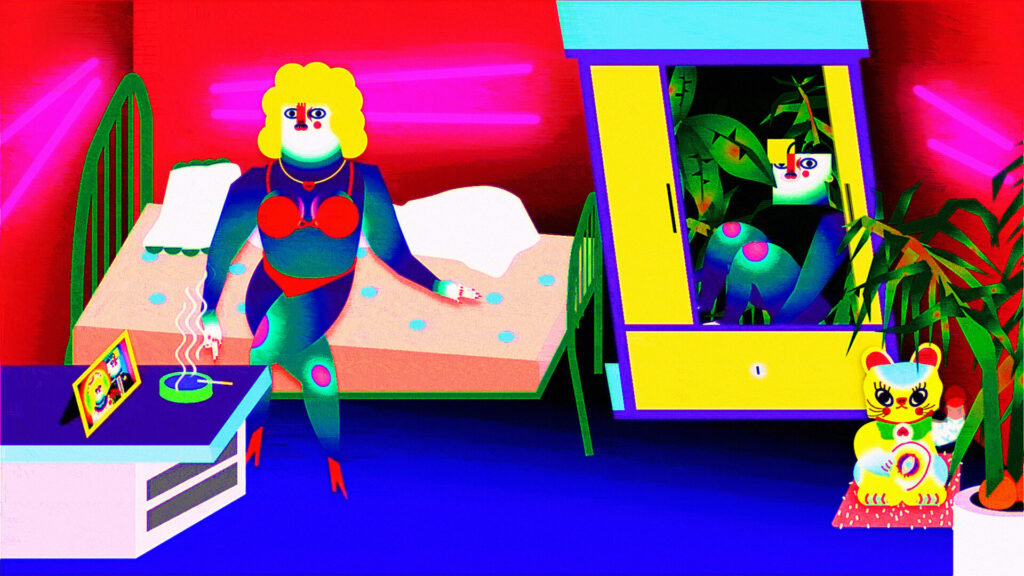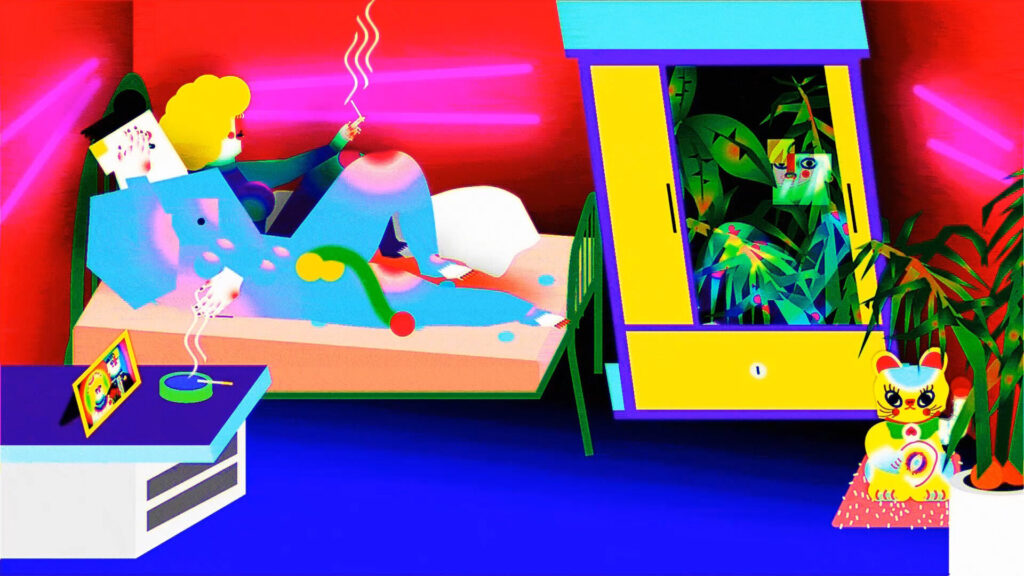 Wong Ping, Jungle of Desire, 2015 (still). Single-channel video, sound, color; 6:50 min. Courtesy the artist; Edouard Malingue Gallery, Hong Kong / Shanghai; and Tanya Bonakdar Gallery, New York / Los Angeles
Two years later, the company laid off most of its employees, and Ping's supervisor referred him to a foreign animation TV station to produce advertisement videos. Since then, Ping has used off-the-shelf software to animate videos during his free time, which then would be shared on Vimeo. But his fascination to explore and learn does not end there. The artist explained, "I am taking snooker lessons and hopefully I could make it a crossover in the future" when asked if he's experimenting with new mediums aside from his current series influenced by "Isolation, new hobbies, varicose veins fetish, ego, political correctness, humanity, ignorance" to sum it up.
Ping's animations are mostly presented in the first-person narrative. In Who's the Daddy - inspired by a popular Cantonese children's song - for example, the very masculine protagonist with an exaggerated and comical look to him shares his anecdotes and fantasies with the audience. Even though the work has flashing content that may seem welcoming and cheery to most - it's presented in a dark humorous nature. Using neon colors as his scheme, the artist tells the story of a man who inadvertently becomes a father and raises his children. The exploration of political identity and the unnecessary validation that comes with it is woven throughout the film. The video animation gives me a special feeling of comfort - his work is liberating and truthful and sheds light on the hardships of everyday life.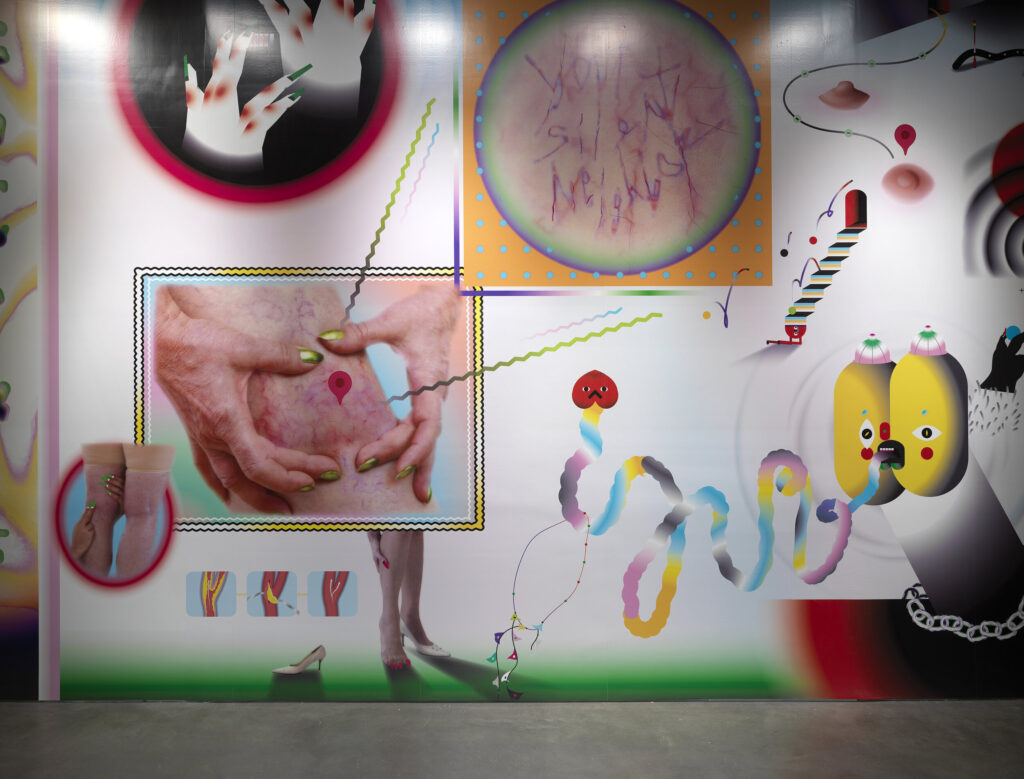 Also on view is "Jungle of Desire" (2015) which was inspired by the true events on the news over the years and police brutality, tells the story of an impotent man who spies on his prostitute wife. An opening shot of this vibrantly colorful animation shows the couple in the bedroom-the husband in the closet, the wife on the bed, her smoking a cigarette, and wearing red lingerie. On the bedside table is a photo of them when they were married, and in the corner of the room is a Maneki-neko. As the story progresses, the male anti-hero - an animator, like the artist - begins to develop a sexual obsession with a cop who pays nothing but gives his wife "the perfect orgasm." ("I couldn't tell if I was in love with this cop," the narrator admits, "or if I identified with him to conquer my wife." )
Throughout the cynicism seen in Ping's work lies underlying messages on identity, politics and anxiety-inducing interactions, isolation and most importantly, contradictory feelings we all often encounter, everyday - Ping just makes it fun to face such realities, especially with his new found glory of varicose veins.
Wong Ping (b. 1984, Hong Kong) lives and works in Hong Kong, and founded the Wong Ping Animation Lab in 2014. He has had recent solo exhibitions at SCAD Museum of Art, Savannah, GA (2020); Institute of Contemporary Art, Miami (2019); Camden Arts Centre, London (2019); and Kunsthalle Basel (2019). His work has been included in group exhibitions at numerous venues, including Tai Kwun, Hong Kong (2019); 5th Ural Industrial Biennial, Ekaterinburg, Russia (2019); Today Art Museum, Beijing (2018); Times Art Center Berlin (2018); 6th Athens Biennial (2018); Changwon Sculpture Biennial, South Korea (2018); Sifang Art Museum, Nanjing, China (2018); Alt Space Loop, Seoul (2018); Solomon R. Guggenheim Museum, New York (2018); Haus der elektronischen Künste Basel (2018); and Arts Centre Melbourne (2017). His films have screened at many festivals and institutions, including London Short Film Festival, International Film Festival Rotterdam, Sundance Film Festival, Hong Kong International Film Festival, Kurzfilm Festival Hamburg, Centre Pompidou, and Artists' Film Biennial. Wong was the recipient of the inaugural Camden Arts Centre Emerging Arts Prize at Frieze in 2018.