Meet Hannah Traore in Conversation with Painter Patricia Renee Thomas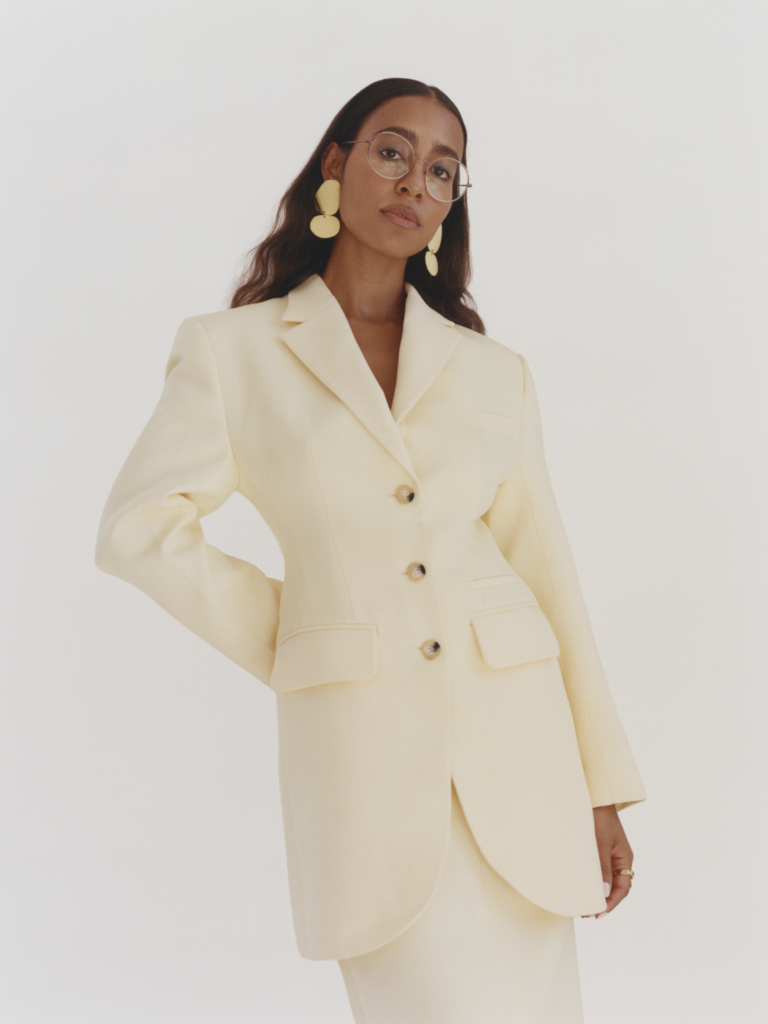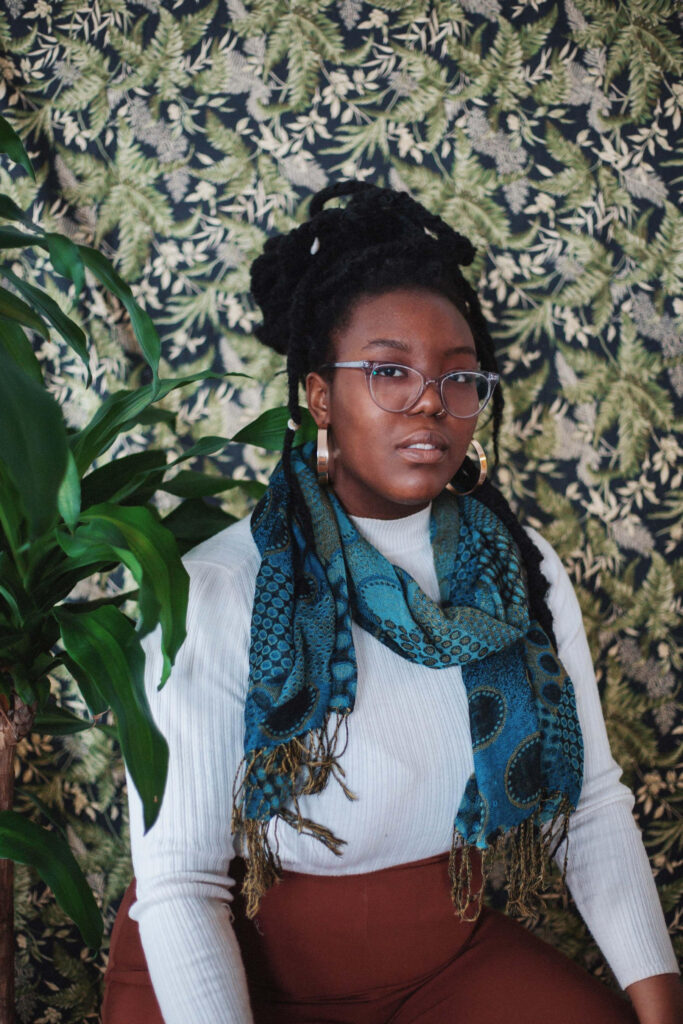 One of the more positive outcomes of recent years and counting is the increasing progress the art world has endured. New York continues to openly assert itself as the playground for arts and culture, from diversifying leadership boards to opening art spaces of their own accord (Hollywood is becoming another hot spot as we speak!)

Moving at one's speed is bold, but taking a leap of faith to open a gallery in the Lower East Side to advocate for artists who've historically been marginalized is another level of courage. Still, Hannah Traore, founder of her new eponymous space, makes it look so easy. Headlining with a strongly curated show by the beloved contemporary artists Hassan Hajjaj and Meriem Yin, Mi Casa Su Casa as the inaugural show, the adjacent group show, Hues introduces a cluster of trailblazing artists into one space. Artists such as Wendy Starr, Adébayo Bolaji, Justin Yoon hit center stage at the downtown art scene.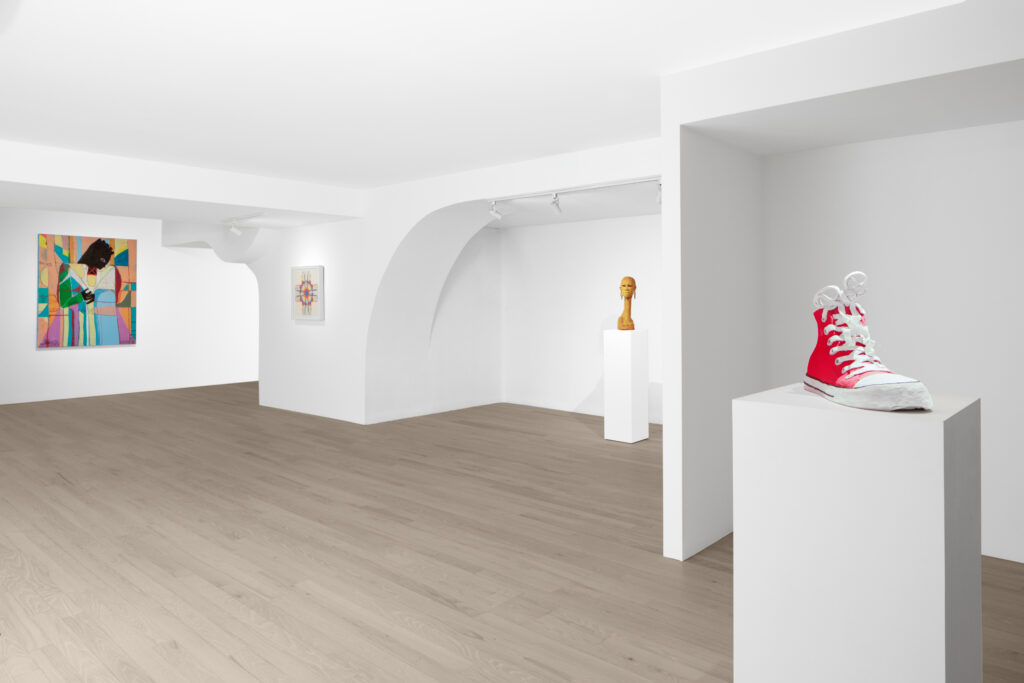 Located in a bustling area, inside, the salon-like layout reflects the gallery's personality and aim; intentionally shying away from her counterparts nearby. But this take is the result of a deep appreciation and existing career Hannah has within the arts; beginning with her internship at MoMA through the Black Arts Council where she met curator Yasmil Raymond to her years curating alongside Isolde Brielmaier, now Deputy Director of the New Museum. It was throughout her time working alongside curators who she calls her mentors, that she learned how to carefully develop an art show.
Instagram, on the other hand, serves as a search engine for her. Through Instagram, and word of mouth, Hannah mingled with Philadelphia's very own Patricia Renee Thomas, the self-described black girl with flat feet [who] walks across her parent's soft grass, picking up trash blown over by the wind. The two tell Art Currently about their relationship and the motivation behind the inaugural exhibition that Patricia is a part of.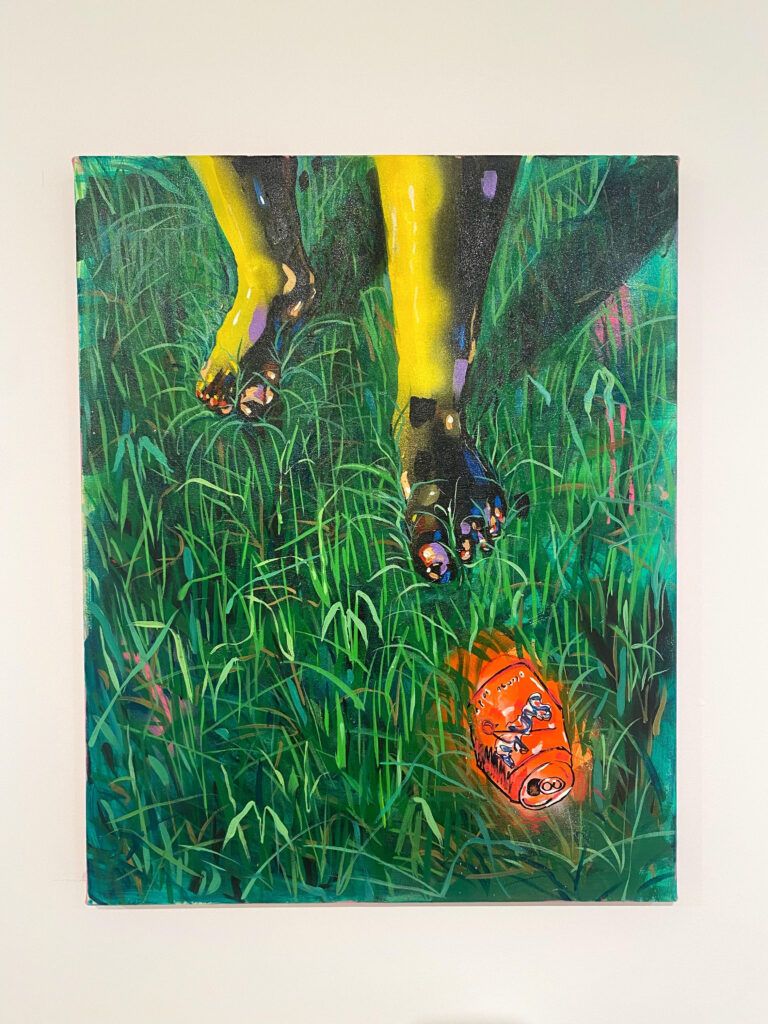 Q. For both: How did you meet?
Hannah: Patricia and I met for the first time at her recent Kravets Wehby opening, after having been in contact for months. It was a joy not just to view her art in person, but also to see her. In photos or in email, it's difficult to perceive the full extent of such a beautiful spirit.
Patricia: Yes, we met up on the gram and I was drawn to her goals with her curation and space. We met in person at a recent opening in the city and would send a quick pic every time she visited my work in other cities as well. I thought we were like-minded and was excited to work together on a project!
Q. For Hannah: How did you come across the work of Patricia initially?
My good friend actually sent me her work! She knew I'd be captivated by her wonderful use of color and distinctive depiction of the Black body right away. And, as you may know, after I was introduced to her work, I began to see it everywhere, which was, of course, a delight.
Q. For Patricia: Hues focuses on colors, in a way as poetic justice and finding meaning through color. How would you describe your latest work on view?
Color has the power to influence emotions, depict memory, visualize the future and I play with a combination of them all--I enjoy painting moments that feel intimate to both me and the viewer as a part of the composition while also allowing the painting to memorialize transient joy. The palette in this work offers the feeling of a hot sunset on a summer afternoon, reveling in the peace of an ending day, finishing chores around my parent's yard. I love finding moments to add juicy saturation to the work as well as simultaneous contrast to push and pull with the clarity of this restorative memory.
Piggybacking on this - Hannah, why did you choose Patricia's paintings as a significant work in dialogue with the idea of hues. Her use of color drew me in instantly. It's nice when an artist employs gorgeous colors, but it fascinates me much more when they know how to evoke emotion through color combinations. Yes, each hue in one of Patricia's paintings is lovely on its own, but the true beauty emerges when you zoom out and look at all of the colors in the painting's landscape. It elicits a strong emotional response. I feel pleased when I look at her art. It was vital to me as I was putting Hues together for people to enter into the space and feel something from each artwork. Patricia was a no-brainer.
Q. For Hannah: How has it been working alongside Patricia and other artists in the show? What do you anticipate this show would do for audiences and the artist?
It's hard for me to put into words how it felt to work with my first group of artists. We were both ecstatic because it seemed like we were working together to create something new. I am really grateful that they put their confidence in me and connected to each of my works. I want the artists to feel free to create whatever work they desire, free from society's preconceptions of how they should show themselves. Hannah Traore Gallery is more concerned with their talent and vision than with checking a box or gaining "clout." Similarly, I want viewers to appreciate each artist's work individually as well as collectively, recognizing that we, as people of color, are not a monolith. I thought that employing color as the through-line was a great approach to do it.
Hues at Hannah Traore Gallery is on view through February 26, 2022
&
Mi Casa Su Casa Curated by Hassan Hajjaj and Meriem Yin is on view through April 16th 2022