Tomás Saraceno Wants Us To Let Go Of Our Fears And Phobia In A New Sensory Interactive Experience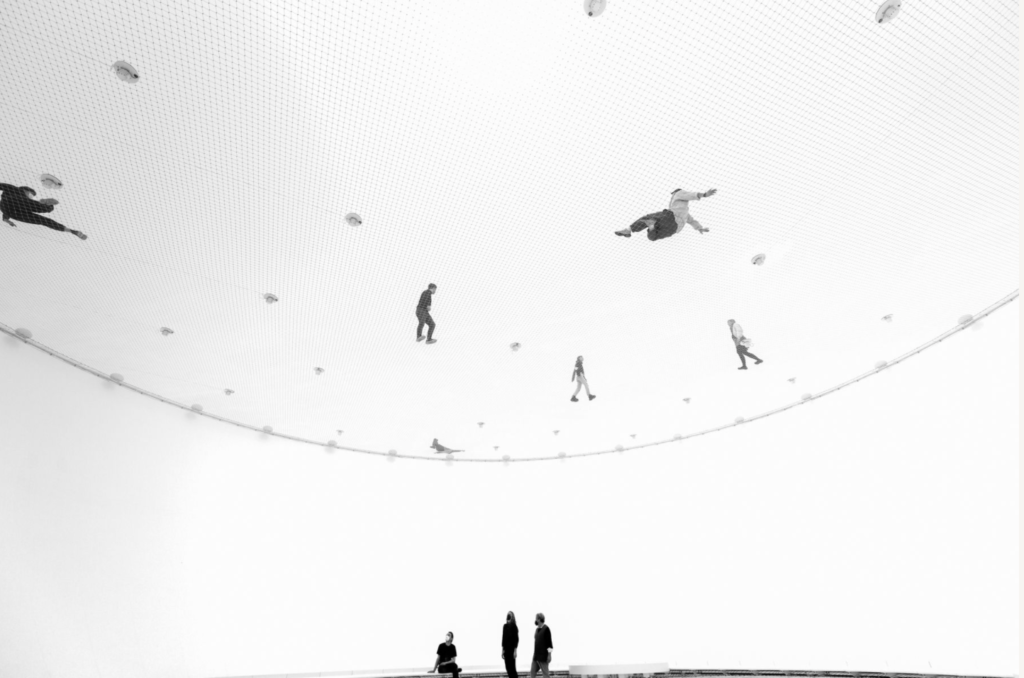 At The Shed, Argentinian-born and Berlin-based artist Tomás Saraceno's sculptures, interactive installation, and collaborative artistic methods center his largest US exhibition. With a clear-eyed vision for a society free of carbon, extractivism, capitalism, and sexism, in a period he characterizes as the Aerocene era, Particular Matter(s) unpacks the artist's ongoing discoveries of ecology interspecies communications, particularly around spiders and the other species.
Through April 17th, Saraceno's decade-long visionary artworks committed to conceptualizing sustainable futures are included throughout the expansive gallery exhibition. The showstopper, though, is the newly commissioned sensory experience inside a 95-foot-diameter installation, Free the Air: How to hear the universe in a spider/web where visitors are guided into a web-like mesh net to feel exactly like a spider. Taken from a collaborative recording of spider/webs at The Shed and other locations, the vibrations heard throughout the concert, as part of the artist's analysis, are visible in sculptures as Webs of At-tent(s)ion. The sensory experience is also derived from the movement of particles through the air, which plays a significant role in Particular Matter(s), a light beam installation in a pitch-black gallery room next door.
In an attempt to slowly diminish the phobias of spiders, and other insects, the basis of the exhibition is to not only expose the perspectives of these air-breathing arthropods but how the world can be different once we have to stop seeing it and start feeling it. "It's a mystery that I'm still so thrilled by these wonders that spiders possess," Saraceno says.
He continues with, "spiders are breathtaking when watching them. I keep spending hours of my life enjoying the weaving that is accomplished. They lack to see the world the way we do because of their disability in vision, and it makes me think about how humans can consider motor perception to co-exist. It's a hectic world of vibrations, and since the pandemic also, it seems that we've lost touch of intimate relationships because of this fear of one another during the pandemic."
Saraceno goes on to suggest that spiders are a part of a larger web of life. While many people have arachnophobia, Saraceno's exhibition encourages viewers to let go of their fears as a trope to become increasingly conscious of our hyper-consumerist lifestyles and society's dependence on fossil fuels to maintain the world's biodiversity mandate.
Located at The Shed's soaring McCourt space, the net is extended end to end on two levels in the room - the first 12 feet of the installation are above ground - while the second is 40 feet long. He continues, "We put a lot of effort into setting a non-dogmatic tone to the visitor's experience. There was a small amount of seriousness I wanted audiences to take - but also express a sense of gratitude for sound and sight, all while addressing fear of heights and common phobias."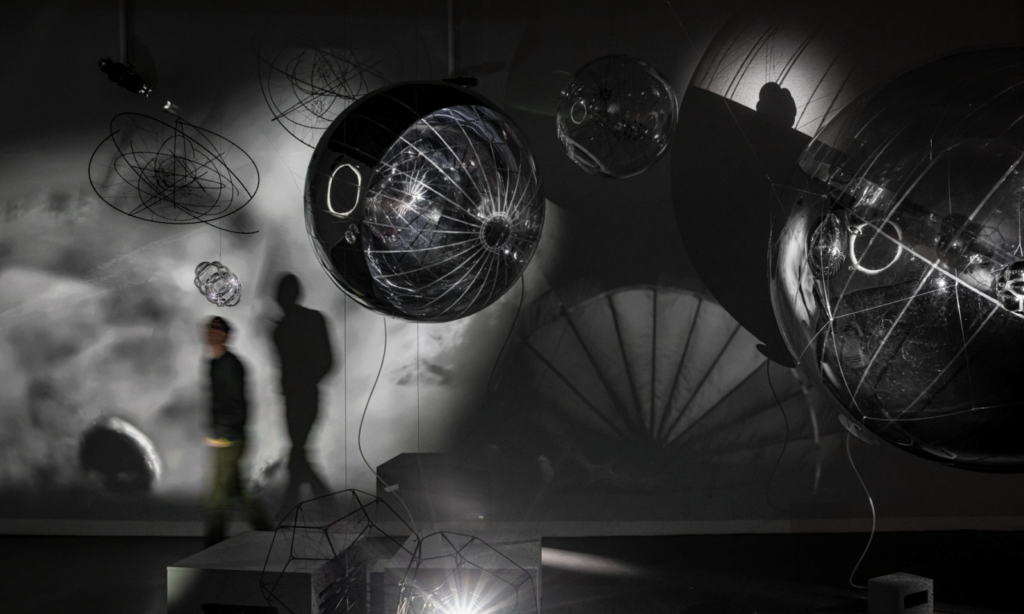 By tackling environmental racism and justice, Particular Matter(s) brings a multi-layered approach together - depicting a new way of interacting with the environment and quashing cultural practices that damage the planet earth.
The Shed's Curator-at-Large, Emma Enderby says, "Tomás presents the necessity to reevaluate how we perceive and operate in the world and what to expect from it, which he achieves through interconnected, non-hierarchical collaborations across the human and nonhuman."
The large-scale show is accompanied by the Arachnomancy app, a version of the Free the Air: How to hear the universe in a spider/web concert, accessible anywhere globally, and a catalog designed and printed using waste paper by the Italian Printing Atelier Musumeci, inspired by Saraceno's efforts to save the environment.

"Ultimately, I hope it influences people to be more conscious and aware of the way we live," concludes Saraceno.
In line with The Shed's continuous support of innovative experiences, newly appointed Chief Curator Andria Hickey joins the team with great timing. Curator Hans Ulrich Obrist expresses "Andria's longstanding interest in civic engagement and experience in supporting artists to develop and realize new commissions make her an ideal fit for The Shed. She is a brilliant curator and we look forward to working with her."
Tickets are now on sale for visits through April 3.
There are three ways to visit Particular Matter(s):
1. Upper Level of Sensory Experience + Gallery
2. Lower Level of Sensory Experience + Gallery (wheelchair-accessible)
3. Gallery Exhibition Only

Visit The Shed to get your tickets reserved.
"Tomás Saraceno: Particular Matter(s)" is The Shed's largest exhibition to date.