Shaky Opinions on Hank Willis Thomas' Boston Sculpture Questions Judgement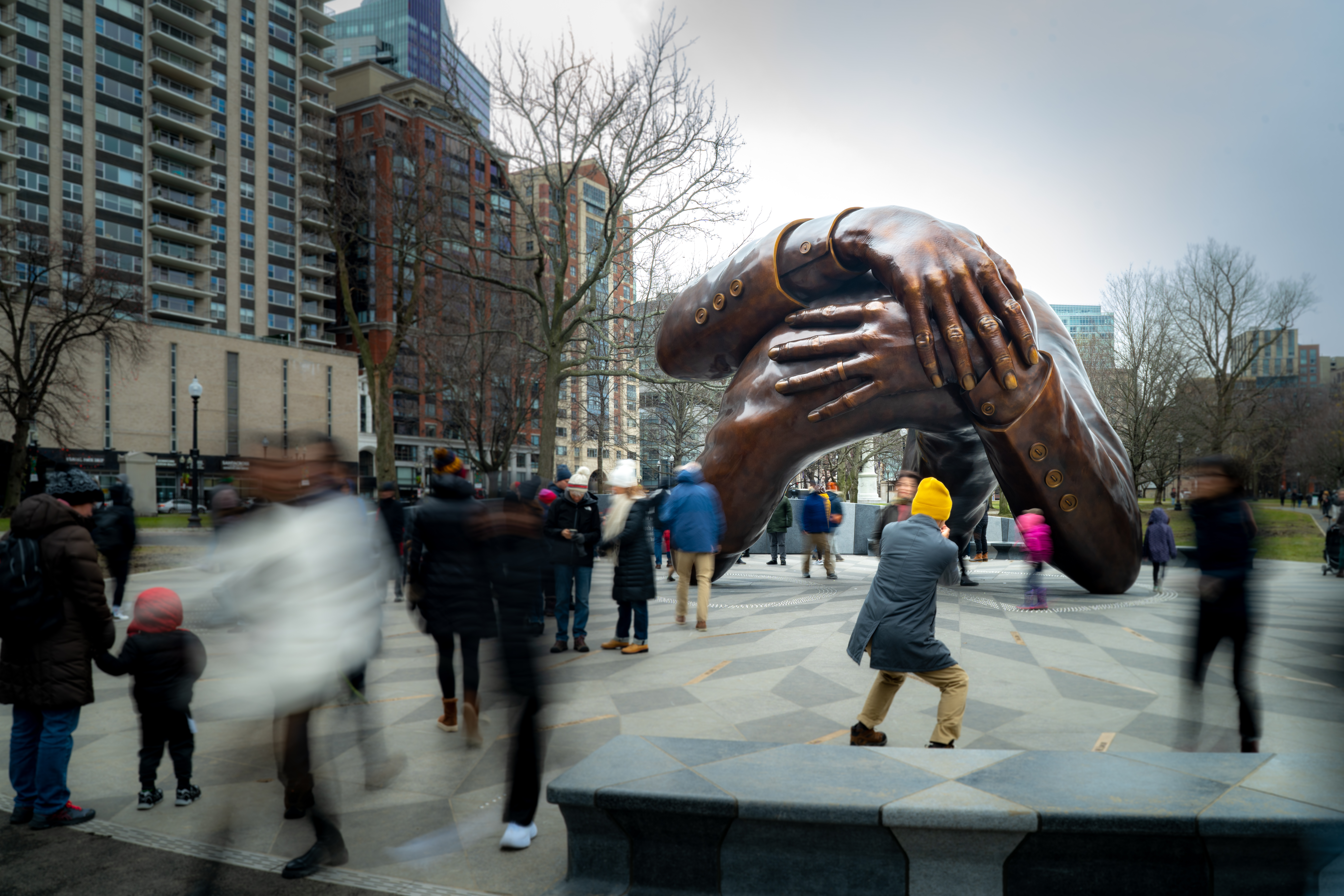 If you know anything about Hank Willis Thomas' conceptualist approach to his work, which has been shown internationally, one would likely recognize that this is not his first rodeo working with human forms to tackle themes of racism and popular culture. See Unity near the Brooklyn Bridge as just one example.
Though this is not the blame game, the artist's recent commission "The Embrace" unveiled last week at the 1965 Freedom Plaza in Boston, has sparked mixed commentary and led us to question whether such pointed criticisms towards the art and artist are misguided, and should perhaps be geared to simply acknowledging that this isn't the greatest representation of racial equity and legacy honoring the Kings.
The 20-foot-tall bronze sculpture depicts two figures, one representing Rev. Martin Luther King Jr. and the other Coretta Scott King, embracing each other, based on a photograph taken of the couple in 1964. Together with the Mayor's Office of Arts and Culture, and Embrace Boston, an organization dedicated to "dismantling structural racism through arts and culture, community, and research and policy", the final design was approved and selected from 126 artist submissions.
The artist, whose design is very distinctive to his previous iteration of bronze sculptures, explains "I really wanted to make the work a call to action. A reminder that each of us has in us the capacity to be either of those two people or actually something inspired by and more influential. Through embracing another person our opportunities grow. I wanted to highlight the power and beauty of coming together with another person to manifest our shared goals."
The commemorative sculpture, symbolizing unity and love, has already been undertaken by low-hanging criticism with some onlookers describing the work to have phallic-like attributes. Though the artist was quick to respond to such comments stating in a CNN special that "this was a piece selected by the people of Boston. This is not a Hank-just-put-something-here. Thousands of people worked on this, thousands of people actually put it together and no one saw this, I would say, perverse perspective".
The Embrace was produced by the Walla Walla Foundry, known to be the art world's largest fabricators working with renowned artists like Thomas; and global award-winning design firm MASS Design Group led by principal Jonathan Evans. The negative space in the sculpture, which makes the figures appear as if they are blending together, was a crucial aspect of the design; symbolizing the idea that all individuals are interconnected and one.
While some had their minds in a gutter, others pointed out that the sculpture itself did not represent marginalized groups or the black community. Washington Post's columnist Karen Attiah expressed in a tweet "Boston's Embrace statue perfectly represents how White America loves to butcher MLK. Cherry-picking quotes about love and non-violence. While ignoring his radicalism, anti-capitalism, his fierce critiques of white moderates."
However, it's not up to us to criticize the piece itself as a form of disregarding or white-washing the legacies of both figures but more or less consider, instead the lack of better judgment in the selection process. It's not to say Thomas wasn't the right candidate but an artist who is notoriously known for his abstractism, might have missed the mark, especially when the design seems more theoretical than not.
Nonetheless, others shared the sentiment that the sculpture has a powerful message and an emotional impact to the community.
Besides the unveiling, the artist was picked up by Pace Gallery announced last Friday as his new representation and opens an exhibition Let Love Quiet Fear, a group exhibition organized by For Freedoms in dialogue with the sculpture on view at Praise Shadows Art Gallery.
Hank Willis Thomas is a conceptual artist whose work explores themes of identity, history, and popular culture. His work has been exhibited at venues such as the Whitney Museum of American Art and the Guggenheim Museum in New York City, and is included in the collections of many major museums around the world.
The Embrace is officially open to the public beginning February.